2004 Cut Flowers of the Year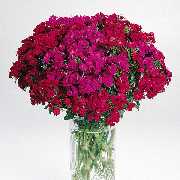 Dianthus "Amazon Neon Duo"
Strong, thick stems.
Vivid purple and cherry colors.
Does not require vernalization to come into flower.
Overwinters in most USDA Hardiness Zones.
Peony "Sarah Bernhardt"
Profuse and symmetrical petals.
Works well as a cut in any stage from bud to totally open.
Courtesy of vermontdriedpeonies.com.