2023 Cut Flowers of the Year
The Association of Specialty Cut Flower Growers, Inc. announces its selections for the 2022 Cut Flowers of the Year.
These varieties are chosen by the ASCFG's 3,000+ members on their ease of culture, productivity, and marketability.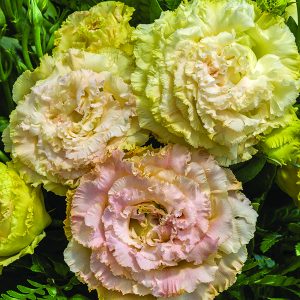 Fresh Cut Flower of the Year
Lisianthus 'Voyage 2 Champagne'
The Voyage series offers huge, ruffled blooms of blushy golden pink. One zone 6 grower reported stems at least 24 inches long grown in a tunnel. The flowers are ideal for wedding bouquets. Comments from ASCFG members included, "This variety performed wonders in the field and in bouquets. The color was a joy to work with and folks adored them." and " 'Voyage 2 Champagne' is consistently amazing with its ruffled blossoms and superb stem length and strength. It looks wonderful in every setting with its romantic diversity of hue." This lisianthus provides a perfect color choice for later summer or early fall floral designs.
Woody Cut of the Year
Hydrangea 'Pinky Winky'
One of several excellent Hydrangea paniculata varieties, 'Pinky Winky' features two-tone flower heads with both white and pink florets, if harvested before all florets turn pink. Plants are adaptable, and durable from zones 3 to 8. Cut them back hard after harvest is complete to encourage long, non-branchy stems. Cut flower growers love the structure of these blooms, which provide gorgeous blooms, whether used fresh or dried.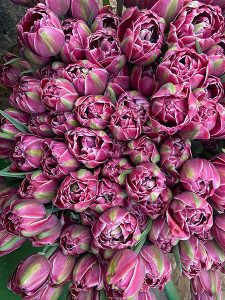 Bulb Cut Flower of the Year
Double Tulip 'Dream Touch'
Long, strong stems, and a unique, moody flower color combination make this a favorite of both growers and florists. The variety has a long postharvest life. Some tulips are challenging to design with, but the more rigid stems of 'Dream Touch' are perfect for bouquets. One ASCFG member noted, "Tulips are at the top of my list for cut flowers, and 'Dream Touch' is stunning." Others remarked that the green striping on the purple petals creates a unique color combination. Bulbs are consistently productive.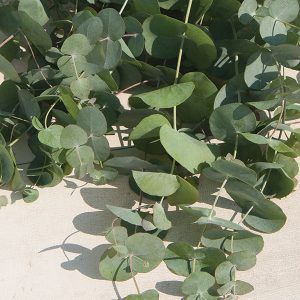 Cut Foliage of the Year
Eucalyptus Silver Dollar
Eucalyptus is in high demand as a specialty cut, and 'Silver Dollar' fits the bill with its extremely long stems that are easy to work with in bouquets and wedding designs. Customers rave about its unique silvery color. It's more fragrant than most eucalyptus, making it the most popular to sell retail. Aromatherapy, anyone? This variety is known for overwintering in plastic tunnels in zone 6, making it easy to grow and extremely low-maintenance. It is also disease and pest-resistant, and can last as long as two weeks postharvest. One grower noted," 'Silver Dollar' did amazing on our Colorado farm, lasting through to Thanksgiving without any type of protection."