ASCFG Virtual Growers' School Presenters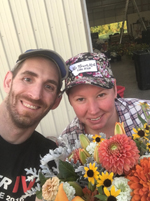 Amanda and Matthew Cook
Cook's Market, Baldwin City, Kansas
We are a small farm with big dreams. We sell to florists, grocery stores, and at farmers' markets. We also offer floral design services for weddings and events.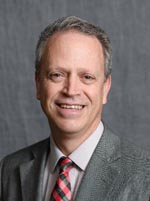 John Dole
NCSU, Raleigh, North Carolina
John Dole is Associate Dean and Director of Academic Programs for the College of Agriculture and Life Sciences at NC State University. He is currently the ASCFG Executive Advisor. Dole conducts research on cut flowers including new cultivar evaluations, production studies, postharvest experiments, and marketing analysis. In cooperation with the ASCFG, NC State co-coordinates the national ASCFG Seed, Perennial, and Woody Plant Trial Programs, which include several growers in the United States and Canada. He teaches a graduate level . Physiology of Flowering course, and authored or co-authored seven books including Postharvest Handling of Cut Flowers and Greens, Beautiful Branches: Woody Cut Stems for Flowers, Fruit and Foliage and Floriculture – Principles and Species.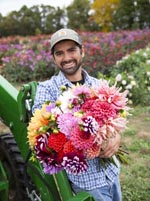 Michael Genovese
Summer Dreams Farm, Oxford, Michigan
Michael Genovese started Summer Dreams Farm in 2015 growing 5,500 dahlias. Now in his sixth year, he is one of the largest growers of dahlias in the country, raising over 60,000 plants each year on seven acres. Most of his flowers are sold locally to wholesale and grocery customers, direct to florists, and at a local farmers' market. Michael also sells dahlia tubers, shipping them across the country each spring. He is passionate about the agricultural community and is active in promoting the industry along with sharing the realities of farming in the 21st century with the public.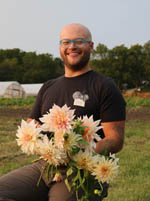 Drew Groezinger
Clara Joyce Flowers, Stockton, Illinois
Drew Groezinger, owner of Clara Joyce Flowers, is a lifelong resident of the rolling hills in northern Illinois. Clara Joyce Flowers is a specialty cut flower farm and floral design company that grows on 9 acres of field space, and utilizes greenhouses for year-round production and event floral design. CJF markets their products through florists locally and across the country, local farmers' markets, and through unique wedding and event floral design.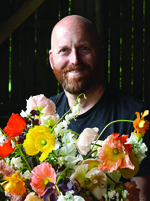 Bailey Hale
Farmer Bailey, Irasburg, Vermont
Bailey started gardening at age 5 and has had dirty fingernails since that time. He grew up mostly in New Hampshire, and returned to his birth state for college to attend the University of Kentucky, where he graduated with degrees in Horticulture Science and Opera Performance. After graduation he worked briefly at Longwood Gardens in Pennsylvania, and ended up falling in love with nearby Philadelphia. After moving to Philly, he operated his own award-winning floral and event design business for a decade. In 2011 he met future husband Thomas, and the two of them ran off to the country to start farming with lofty dreams of starting a goat dairy and pastured pork operation. After a couple years of he came to his senses and returned to his horticultural background, and with the help of the ASCFG, started Ardelia Farm & Co., a cut flower farm and bakery located in Vermont's Northeast Kingdom. Today their operation focuses on the production of top quality sweet pea flowers for the wholesale market, as well as a wide array of woodies and perennials for local sales. Bailey is also the founder of "Farmer Bailey Plugs", supplying an exclusive array of plugs and perennials to cut flower growers nationwide.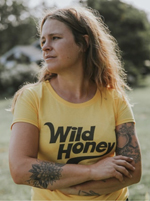 Anna Jane Kocon
Little State Flower Company, Tiverton, Rhode Island
Anna Jane Kocon owns Little State Flower Company, a 5-acre specialty cut flower farm based in Rhode Island. She is also part owner of The Farm and Flora Collective, which is comprised of three women-owned horticultural-based businesses leasing a large local garden center in Middletown, Rhode Island. Anna Jane has been running her farm on 5 leased acres for 6 years and has one full-time employee. She and her husband bought a 5-acre farm in 2019 in Tiverton, and will be transitioning her main season production there over the next two years.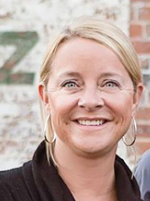 Gretchen Langston
Blooms, LLC, Laporte, Colorado
For the past 16 years, I have been the global head of risk management for a large hospitality company that operates concession, lodging and recreation in most of the US National Parks, owns private resorts, high end adventure global touring companies and a cruise line. I have ultimate responsibility for our company's "boots on the ground" risk, safety and compliance specialists, global crisis response efforts, firefighting teams, security and investigation teams, commercial insurance procurement, work comp claims and lawsuits, third-party claims and lawsuits, property losses and insurance claims, contracts design for risk transfer and a variety of other things. If it relates to health & safety and controlling losses, then it resides within my world and is managed by my extremely talented team. I have been in similar roles leading this function at three different companies over the last 25 years. My job has taken me around the country and world where I often speak to groups and present on any number of risk-related topics. These things have been my life's work and my passion. But I have another great passion as well…Farming and Flowers!
I am the proud owner of Blooms, LLC – a family-operated flower farm in Laporte, Colorado.  My sister-in-law, Gaylene, is my business partner in all things and 2021 will be our fifth year in operation. We specialize in spring bulbs, peonies, woodies, perennials, dahlias and all things autumn, with about 8 acres currently in production. We are committed to organic practices with a focus on soil health and farming as gently as possible on our land.
I was raised on a small farm in rural Missouri. My parents were teachers but longed to live off the land and provide their children with a different way of life. Our farm was my home until I left for college and I loved it. I knew nothing else. But eventually I yearned to get away from country life. I wanted to be in a big city with a big city career. And so I did that. And I loved every minute of it…until the minute I didn't. That minute came when my son was born. Everything changed for me…my longing to be back on a farm began. I no longer wanted to keep moving, chasing a career. My husband felt the same. We both desperately wanted our son to have a place that "he came from". I had already been obsessed with flowers and growing our own food for years. I'd been transforming our city plots into food gardens, planting beautiful blooms and jumping through all kinds of bureaucratic hoops to get "city chickens". In my mind, I was already a farmer again. When we finally took the plunge and bought 40 acres in rural Colorado six years ago, I was off and running. I am no stranger to farming practices and chores (and more chores and endless chores!)…I was raised doing all of this. In short, it felt like coming home. We are now in our forever place…and this is where Blooms was born.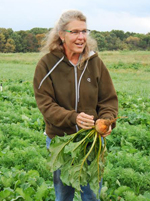 Ellen Polishuk
Plant to Profit, Maryland
Ellen is a farm consultant, writer and workshop leader. She leverages her 35 years of biological vegetable farming experience to help growers around the country reach their farm dreams. Ellen is passionate about working with farmers to improve their soils, their labor management practices, and their businesses so they can increase farm profits and achieve a joyful balanced life. Ellen is a well-known dynamic speaker. She is very down-to-earth and can make complicated topics accessible to all kinds of listeners.
Ellen was one of three owners of Potomac Vegetable Farms in northern Virginia where she grew Ecoganic produce for 7 farmers' markets, a 55-member CSA, and two roadsides stands. She now conducts her production and efficiency consulting through her firm Plant to Profit, and her farm business and profitability consulting through her association with Kitchen Table Consultants. Ellen is a co-author of the newly-released book Start Your Farm. She also writes the farmer to farmer profile column for Growing for Market magazine. She lives in suburban Maryland with her husband Dan, where she gardens like crazy.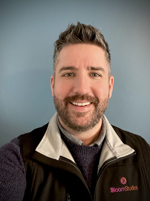 Scott Rusch
BloomStudios, West Chicago, Illinois
Scott Rusch is GM and Co-Founder of BloomStudios Cut Flowers. Scott Rusch started with Ball Horticultural Company in 2001 as PanAmerican Seed's sales rep for Ball Seed traveling throughout North America to support their products. He also spent a year in Japan working at M&BFlora representing PanAmerican products and learning about the unique product needs of that market.
For 10 years as global product manager, Scott was responsible for managing or introducing many Cut Flower and Bedding products including Akila Osteospermum, Amazon & Bouquet Dianthus, Dash & Jolt Dianthus, Matrix & Cool Wave Pansies, Potomac Snapdragons, Zahara & Double Zahara Zinnias. In 2015, he was promoted to PanAmerican Seed product development director; responsible for the commercial assortment for PanAm and Kieft Seed leading the product management team bringing new varieties to market working with the best breeders and product team in the world.
In Fall 2019, Scott started as the General Manager and Co-Founder of BloomStudios Cut Flowers; Ball Horticultural Company and PanAmerican Seed's newest division focused on cut flowers. BloomStudios develops new products, technical resources, and marketing to support distributors selling to cut flower growers.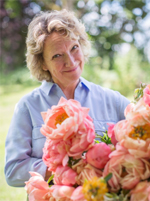 Val Schirmer
Three Toads Farm, Winchester, Kentucky
A little Kentucky bourbon is most likely the force behind every great big, totally far-fetched idea.
That's what happened in 1997 when Val Schirmer made a pact with family friend and newly-retired fire fighter Charlie Hendricks to start a tiny business growing flowers. But not just any flowers. The pair had the crazy notion they wanted to grow the kind of flowers that could literally stop people in their tracks.
Over a few bourbon-infused toasts that summer evening on the Schirmer's country porch, Three Toads Farm — which Martha Stewart Weddings calls one of the top 10 farmer-florists in the country — was born and the pair learned through trial and error over the next several years to grow the biggest, boldest Oriental lilies that most people have ever seen.
And that's the basis for everything the farm does: big, bold, using the largest bulbs commercially available.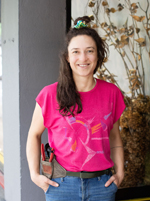 Isabella Thorndike
Jacklily, Rogue Valley, Oregon
Isabella was born and raised in southern Oregon's Rogue River Valley where she spent much of her childhood making forts and splashing around in a kiddie pool at Le Mera Gardens, her mother's organic flower farm. From a young age she grew deep roots in agriculture and a passion for the great outdoors. After receiving a degree in Environmental Analysis from Pitzer College, Isabella moved to Burlington, Vermont where she coached alpine ski racing and worked on a small flower farm and design studio called Stray Cat. In 2016 she returned to Ashland and claimed her spot as her mother's right hand on the farm while simultaneously establishing her own flower design studio, Jacklily Floral. Jacklily sources all ingredients seasonally and locally, both from the farm and foraged responsibly. Isabella sells bouquets and arrangements for all occasions. She also designs for special events and builds large-scale natural installations for art exhibitions, businesses, and private homes. In her non-flower life, Isabella loves eating and making good food; exploring near and far by foot, bicycle or skis; and working alongside her husband, Jeremiah, building wood-fired masonry ovens and heaters.