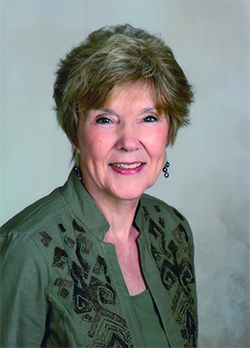 The Josie Crowson Conference Scholarship Fund
To honor the memory of Josie Crowson, a longtime friend and passionate supporter of the ASCFG, the ASCFG Research Foundation has established a fund for educational scholarships awarded to first-time ASCFG meeting registrants. Josie was known as one of the ASCFG's most generous members, sharing her experiences with other growers, and contributing greatly to the organization's recent growth and success. Providing financial assistance to new growers to enable them to attend ASCFG events is a testament to her selflessness. Josie joined the ASCFG in 2002 when she started Josie's Fresh Flowers in Nacogdoches, Texas, where she grew a wide variety of crops for the east Texas floral market, farmers' markets, special events, and subscriptions. She was elected South and Central Regional Director in 2009, and later ASCFG Treasurer. During these terms, she hosted several meetings, and revamped the organization's finances; given her PhD in finance, this was a natural fit for her.
By 2016, when Josie had moved to Fredericksburg, Virginia and had served the ASCFG in as many facilities as possible, the Board, knowing that her expertise and generosity were still essential to the organization, created an Emeritus Board of Directors position especially for her. This is when she not only completely updated and streamlined the bylaws, but conceived and brought to reality our documentary "Local Flowers—Local Farmers". She found the award-winning filmmaker Bayley Silleck in Fredericksburg, and talked him into traveling to and filming growers and florists in Virginia, Maryland, Pennsylvania, and Texas, and even to North Carolina State University to interview John Dole. Josie contacted the growers and made all the arrangements for the visits, was on site for most of the filming, wrote the script for the narration, and tirelessly promoted it after its completion. The film is not only a beautiful work of art, it's an important promotional and consumer educational piece which has been viewed almost 220,000 times on YouTube. In her non-ASCFG life, she chaired the Nacogdoches Farmers' Market Advisory Board, and volunteered countless hours with Master Gardeners' groups in Nacogdoches and Fredericksburg.
Along the way, Josie and her partner George built a life of adventure and exploration, traveling to national and state parks in Alaska, Canada, Wyoming, and the Northeast; dancing together in social clubs in Virginia and Texas; developing and tending to their farm; and visiting with family and friends at home and around the country. Josie loved any new challenge, and she shared this passion for life in any number of ways—parasailing in the Caribbean with her daughters, taking her granddaughters on special trips to new parts of the country, jumping with both feet into a new flower growing business with no background in the industry, becoming a community organizer in Nacogdoches, and raising cattle for the first time at 55. Please help us honor Josie's memory, and assist future cut flower growers, by contributing to the ASCFG Research Foundation today.