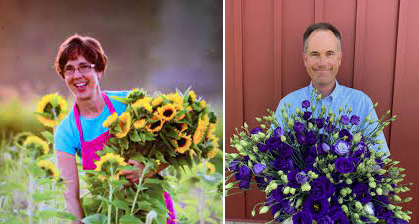 Berry's Blooms Ltd. is a family-owned cut flower farm located in northeast Ohio. Our production area includes 20 acres of field production, 9,000 square feet of hoophouses, 22,000 square feet gutter-connected greenhouses, and a 3,000 square feet conservatory. We have been growing flowers commercially since 2002, with major expansions occurring in 2007, 2014, and 2021. In November 2021 we opened our new on-farm retail space in a restored 1860s timber frame barn.
Our strategic plan is to be a destination farm for farm-fresh flowers and related home decor items. As we have grown the business we have transitioned from selling to florists and wholesalers to a direct to consumer retail strategy. Our most important cut flowers include sunflowers, peonies, lilies, and lisianthus, in addition to other typical cut flowers grown in Ohio.
We are unique based upon the size of the farm (15 acres of sunflowers), and our on-farm retail focus. We look forward to hosting other flower farmers for a tour of our farm and sharing our story and your story.
Rate – $100
Membership required. Not a member? Join here.
Registrations taken on a first-come, first-served basis and limited to 100 attendees.
Registration fee refunded only in case of emergency.