River Twist Homestead Farm Tour
Host Carl and Jan Galloni
River Twist Homestead
5334 River Road
Jamestown, North Carolina
9:00 a.m. to 4:30 p.m.
Includes lunch
Limited to 50 attendees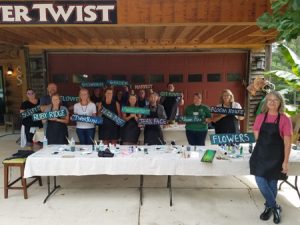 Attendees will be split into two groups. One will start the day with tours of our fields and high tunnels, including harvest and prep for delivery; seedling transplanting; bed teardown; Earthway Seeder demonstration; and high tunnel do's and don'ts. Then we'll move to the seed shed and cooler to learn more about soil blocking and our homemade sifter for peat and compost.
Before lunch, Sammi Price of Just Priceless Florist in High Point will discuss how to prepare flowers for sale to florists.
At the same time, the second group will spend time with artist Jan, learning to color wash and hand letter their own farm sign from start to finish, leaving with their own personalized sign.
After lunch, the groups will switch activities.
Rate – $100
Registrations taken on a first-come, first-served basis and limited to 50 attendees.
Registration fee refunded only in case of emergency.