Cross Street Flower Farm Tour
Host Nikki Bartley  TOUR IS FULL
4 Jacobs Lane
Norwell, Massachusetts
www.crossstreetflowerfarm.com
10:00 a.m. – 1:00 p.m.
Registration
Includes lunch
Limited to 40 attendees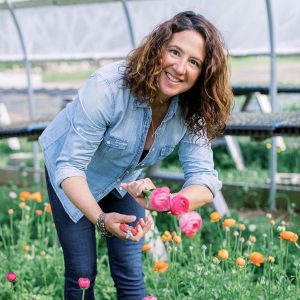 Cross Street Flower Farm is a 7-acre specialty cut flower farm about 30 miles south of Boston. We lease 7 acres (5 tillable) as well as 3 barns of a historic farm—the crown jewel historic property of our town and around the South Shore.
We have 700+ CSA members (spring, June, summer, dahlia). We run a large PYO component, as well as a retail barn shop that sells flowers and non-flower merchandise. The majority of our sales are retail, with a limited amount of wholesale. We offer on-farm workshops, yoga, and story time, and plan to extend into more private events in 2022. We have 3 high tunnels, while we're working on finding the right equipment to scale up our field tulip and dahlia production.
We grow over 20 different cut flower crops, and every year we try to further narrow this list. We grow about 8-10k dahlias, 80k tulips, 6k ranunculus, and usually 2 acres of annuals in fields, including zinnias, sunflowers, celosia, scabiosa, gomphrena, bachelor buttons, larkspur, snapdragons, statice, strawflowesr, foxglove, delphinium, feverfew, rudbeckia, and grasses.
Rate – $75
Membership required. Not a member? Join here.
Registrations taken on a first-come, first-served basis and limited to 40 attendees. 
Registration fee refunded only in case of emergency.