Piscasaw Gardens Farm Tour
Host Jennifer Kinney
Piscasaw Gardens
9306 Lawrence Road
Harvard, Illinois
www.piscasaw.com
9:00 a.m. to 3:00 p.m.
Includes lunch
Limited to 75 attendees
REGISTRATION CLOSED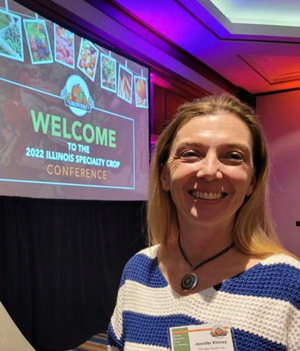 Come see Piscasaw Gardens in action on our busiest day of the week—Friday! We cultivate cut flowers and vegetables on 40 acres. Cut flowers comprise about 5 acres, and are approximately 30% of our revenue. We sell in 15 farmers' markets and from our farm store. Our design team handles between one and three weddings per weeked in season.
You will see us in action on our craziest day as we are picking, bouquet-building, and packing for markets. Our focuses are efficiency and quality. These two can be opposing forces. See, and hear, how we strive to achieve both! We will walk you through our process.
In 2019, we attended the "In the Thick of It" workshop in Maine. During the Broadturn Farm tour we learned about running the events business separately from the farming business. This is our first year of fully implementing that model. No flower can leave our farm in a wedding build without having been ordered and purchased from the farm by the events team. We will share all the gory details of how that has played out in actuality! We will also share our pricing and pay structure in the events division.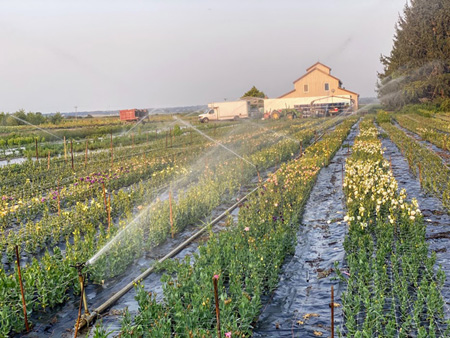 In the field, we look forward to demonstrating our overhead irrigation system, as well as our Monosem planter, and our tractor-pulled transplanter. We will be sure to have some plugs to transplant, even though it will be late in the season! We will also be picking rain or shine, all day, so our cutting process will be discussed during this walking tour.
As we move through our perennial and annual productions, we will discuss production details. For example, we seed over 160,000 lisianthus (50-plus varieties) annually. Besides lisianthus, our passion is variety. We will address how we handle a wide range of seeding and field requirements. Another topic will be growing perennials as annuals. Stroll through the garden with us as we talk about what works for us and what doesn't. We look forward to hearing your experiences, questions and comments!
Labor is a struggle for many in 2022. We currently hire about 20 full- and part-time staff for our production, markets, and event floral design. Our kids also participate as employees and market assistants, and are in training as floral designers. In 2022 we will have 6 full-time H2A visa workers on our farm. This will be our second year using the visa program. We are so happy to have returning employees that are trained in flower harvest and even in market bouquet building! We will give an overview of the visa process and requirements, and will delve into details according to any questions you may have.
We look forward to having you come visit and share in a day on our farm.
Rate – $100
Registrations taken on a first-come, first-served basis and limited to 75 attendees.
Registration fee refunded only in case of emergency.