Part of the ASCFG Research and the Flower Farmer Webinar Series! 
Dr. Melanie Stock
UPDATED: Event Details
Join Dr. Melanie Stock from Utah State University as she presents highlights on her research on several crops in high desert conditions. This talk will detail season extension with flowers, including all the ways Dr. Stock and her team use high tunnels and low tunnels. She will discuss her research on tunnels with dahlia, peony, ranunculus, stock, and snapdragons.
Please look for Dr. Stock's article on early season cultivation of freesia in cold and mountainous regions that are vulnerable to drought during late summers in a future issue of The Cut Flower Quarterly.
Presenter Biography
Dr. Stock is a soil scientist. Her lab focuses on high-value crops and resource use efficiency to improve the environmental sustainability and economic viability of small farms. Her research interests include adapting cut flower crops for Utah from basic cultivation methods to nutrient management and physics-based season extension, overwintering, and water-use efficiency. Visit the Small Farms Lab at smallfarmslab.com and on Instagram (@usu_smallfarms)!
About the Research and the Flower Farmer Webinar Series 
The goal of this webinar series is to connect ASCFG members with the latest academic research in cut flowers and to inspire new ideas for crop, farm, and business management. During these online events, recent recipients of the Research Foundation's Competitive Grants will share synopses of their research, along with the exciting applications of the results, before a short Q and A session with attendees.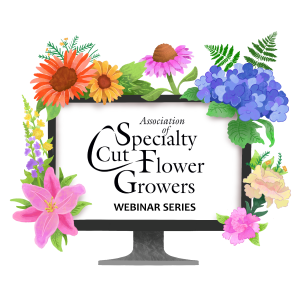 Can't attend a presentation? Don't worry – the webinar will be recorded and be accessible in the ASCFG Members Only portal after the event.
Zoom instructions will be emailed to members on the day of the event. A recording of this session will be archived in Members Only.